FFP2 FFP3 KN95 masks
FFP2: Respiratory masks of protection class FFP2 are suitable for work environments in which the breathing air contains substances that are harmful to health and capable of causing genetic alterations. These must filter at least 94% of the particles found in the air down to a size of 0,6 μm and can be used when the occupational exposure limit value reaches a maximum concentration of 10 times higher. Respiratory masks of protection class FFP2 are used when workers come into contact with aerosols, mists and fumes, which in the long term cause the development of respiratory diseases such as lung cancer and which massively increase the risk of secondary diseases such as an active pulmonary tuberculosis.
FFP3: These are dust masks with bacterial filtration useful for healthcare workers (FFP3 NR filtering facepiece), they are disposable with three flaps with covered exhalation valve Reference standard: EN 149: 2001 + A1: 2009 and Certification according to EN14683: 2005 in class II R, for protection from fluids and splashes and passing the bacterial efficiency test (bacterial filtration> 98%; respiratory resistance ≤ 5mm H2O / cm2; splash resistance> 120 mm / Hg).
Respiratory masks of protection class FFP3 offer the greatest possible protection against pollution of the breathing air. With a total loss of 5% max. They filter at least 99% of particles up to 0,6 μm in size, and are also capable of filtering out toxic, carcinogenic and radioactive particles. These respiratory masks can be used in work environments where the occupational exposure limit value is exceeded by up to 30 times the industry-specific value.
So, summarizing:
1. FFP2 and FFP2 masks protect against viruses, FFP1 do not
2. The reference standard is EN149 EEC which regulates its filtering efficiency
3. If the device is DISPOSABLE, it will be marked with the "NR" mark
4. If the device is REUSABLE it will be marked with the "R" mark
5. The "duration" of the product is not standard, and is indicated by the manufacturer
6. The abbreviation FFP stands for "Filtering-face-pier"
We remind everyone that the filter masks, as indicated in the WHO International Guidelines, that the FFP2 and FFP3 filter masks MUST be used only and exclusively by those who care for highly suspicious patients, or rather, affected by CoVid-19.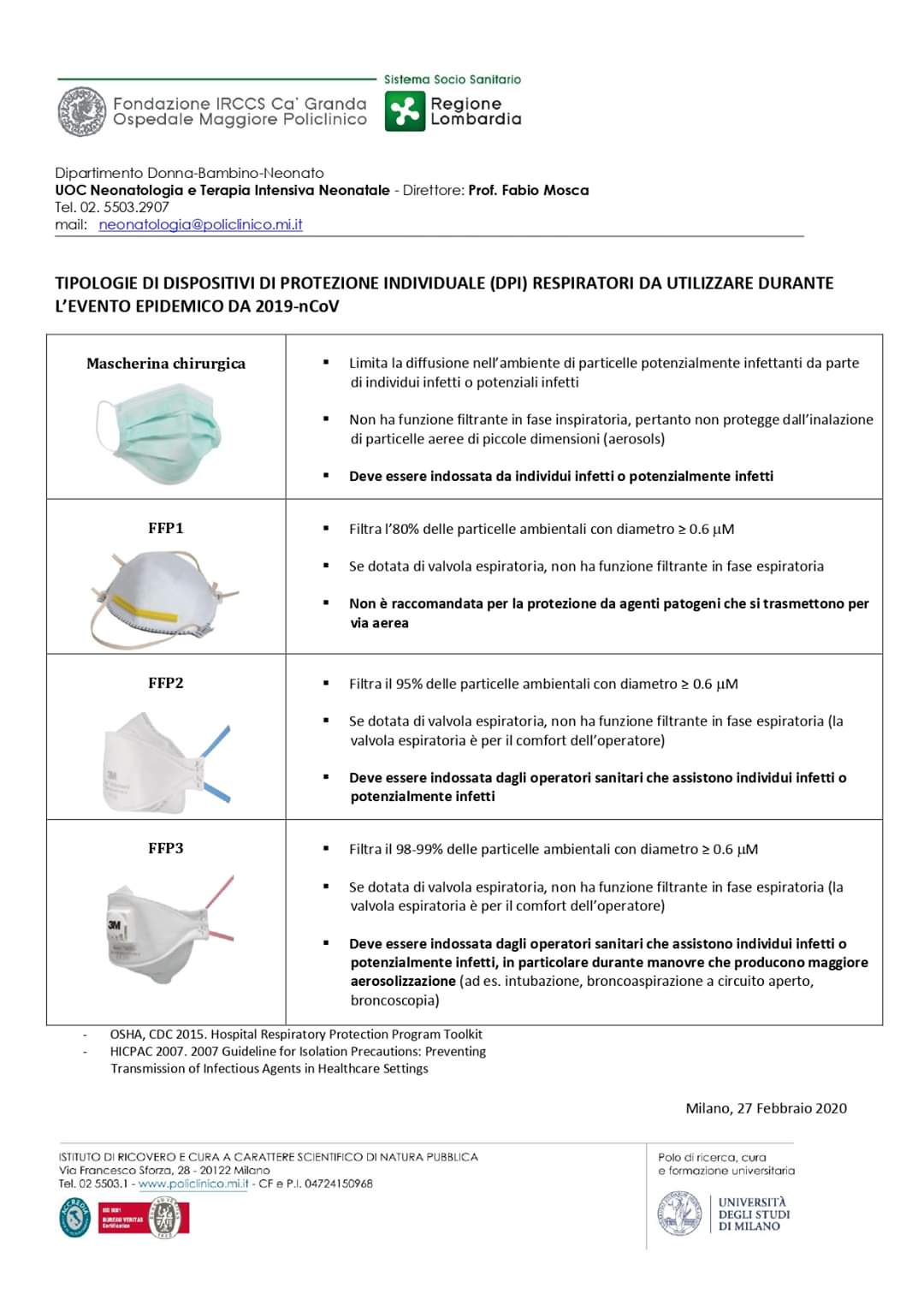 Displaying 15 results